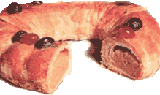 AMANDELSTAAF
For the outer layer of puff pastry:
Frozen (and defrosted!) puffed pastry or:
1/2 cup (1 stick) of butter
1 cup sifted all purpose flour
1/4 cup (or more) ice water
a pinch of salt.
For the filling:
Use prepared mazipan or:
1/4 lb ground almonds
1/2 cup of sugar
1 egg
a pinch of salt
if you want to:
grated peel of one lemon
1 egg for brushing the dough with.
wax paper.
Use the guidelines of your cookbook
to make puff pastry.
Almond filling:
Beat the egg.
Mix it with: ground almonds, sugar, grated peel and salt.
Roll it into a sausage, about 1" in diameter.
wrap in wax paper and chill.
Roll it into a strip about 3 1/2 " wide and 1/8" thick.
Place the almond mixture sausage
along the centre of the rolled out dough
and wrap the dough over it.

Use a bit of water to glue the ends together.
Place this with the seam down
on the floured baking surface.
Shape this pastry into the required letter.
Brush the top of the letter
with the egg that is beaten with a bit of water.
Enjou the smell when it's in the oven
for 30-35 minutes at 425°F.
Take it out of the oven
and place it carefully
on a rack.
If you like to:
sprinkle icing sugar over it,
and place some grated peel of lemon on top.
You can use the same recipe
for a Christmas circle.
Decorate it then for instance
with sugared cherries.